One of the best things about a WordPress site is that you can extend it's functionality by using plugins. Imagine anything and there is probably a plugin that can do it. Of course, this is also a pitfall of WordPress because some plugins are not maintained and others might break your site when updated. If you want a worry free WordPress experience, you can sign up for a month to month subscription with us and let our WordPress experts take care of things like updating your WordPress plugins. If you want to take a go at it here we breakdown how to install and activate a WordPress plugin.
Installing and Activating a WordPress Plugin
Login to your WordPress site and navigate to the backend.
Hover over Plugins and click on Add New.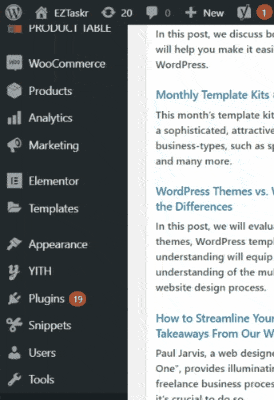 You can use the Search Plugins… field to search for a plugin or you can click the Upload Plugin button if you have a plugin in Zip format
 When searching for a plugin in the WordPress Repository you should consider the recent reviews, which WordPress version the plugin is compatible with and whether support queries are being answered or not.
Once you are happy with a plugin you can click the Install Now button.
If the plugin installed successfully you can then click the

Active 

button.
That's how to install and activate a WordPress plugin. Now we know things don't always go as planned and when working on a live site a simple update can break something else. That's why we offer the service of updating your plugins safely to reduce errors and downtime. Saving you time and money.
Need someone to do this for you?
Get this task done by a WordPress Expert!
Here at EZTaskr you can get tasks like this done for you by buying an affordable month to month credit subscription. Get as many WordPress Maintenance tasks completed as you need for a low monthly price.